4 Fresh Grilled Cocktail Recipes for the Summer
When you're grilling for friends, you make sure there's options for everyone, you procure adequate numbers of utensils and napkins, and you definitely never run out of the lighter fluid, propane, or charcoal. But what do you do when it comes to drinks?
Go ahead and give these four recipes a try this weekend!
Grilled Pineapple Mojito
If you've never put fruit on the grill, pineapple is a great place to start. It has a lot of surface area to get nice grill marks on, it never dries out, and the heat brings out the fruit's sweetness. The addition of fresh mint and lime compliment the pineapple in this classic twist.
Ingredients
1/2 a small pineapple, peeled and sliced into 1/2-inch thick planks
2 tablespoons sugar
2 limes
1 small bunch of mint, stems removed and discarded
8 ounces light rum
16 ounces seltzer, chilled
1 tsp canola or vegetable oil
Directions
Heat a grill to medium-high. Brush both sides of pineapple slices with oil and grill, turning occasionally, until lightly charred at edges and fruit is cooked through, about 8 minutes. Transfer to a cutting board and let cool to room temperature. Roughly chop fruit.
Divide pineapple, sugar, limes, and mint equally among four large glasses. Muddle until mint is mashed and fruit releases its juices. Add rum and muddle to incorporate, then fill glasses with ice. Divide seltzer between glasses, stir gently to mix. Garnish with mint sprigs.
Grilled Hatch Green Chile Bloody Mary
Goes great with steak or burgers! The fresh green chile may be hard to come by until the harvest this upcoming season, but the frozen and diced still works!
Ingredients
3 cups Spicy V-8 juice
3 tablespoons lemon juice
3 tablespoons lime juice
1 tablespoon prepared horseradish
1 1⁄2 tablespoons Worcestershire sauce
1⁄4 teaspoon garlic powder
3⁄4 teaspoon celery salt
1⁄2 teaspoon coarse black pepper
1⁄3 cup grilled Hatch green chile peppers, diced
1 ounce vodka, per drink
Directions
In a blender combine the tomato juice, lemon juice, lime juice, horseradish, Worcestershire sauce, garlic powder, pickle juice, and grilled Hatch green chile peppers and process until smooth. Transfer to a non-reactive (something non-metallic, such as plastic) container and add celery salt and black pepper, to taste. Refrigerate until thoroughly chilled, at least 2 hours and up to overnight.
When ready to serve, fill each glass with ice. Add 1 ounce of vodka to each glass, then fill the glass with the bloody mary mix. Stir well, and garnish each glass with some grilled Hatch green chile, or your favorite veggie of choice!
Grilled Peach Bourbon Smash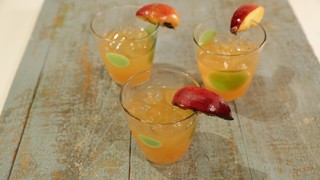 This cocktail is simply a delicious treat!
Ingredients
1 peach (halved and pitted)
1 sugar cube
5 mint leaves
1 ounce lemon juice
2 ounces bourbon
ice (to serve)
Directions
Preheat grill or grill pan to medium-high heat. Place peach halves on the grill, flat-side-down. Grill until well charred and soft, about 5 minutes. Remove halves to a cutting board. Cut peach into 8 slices.
In a cocktail shaker, add sugar cube and crush. Add one grilled peach slice, mint leaves and lemon juice. Crush the fruit well. Add some ice and bourbon of choice. Close and shake vigorously. Strain into a rocks glass filled with ice. Garnish with a grilled peach slice. Enjoy!
Grilled Brown Sugar Lemonade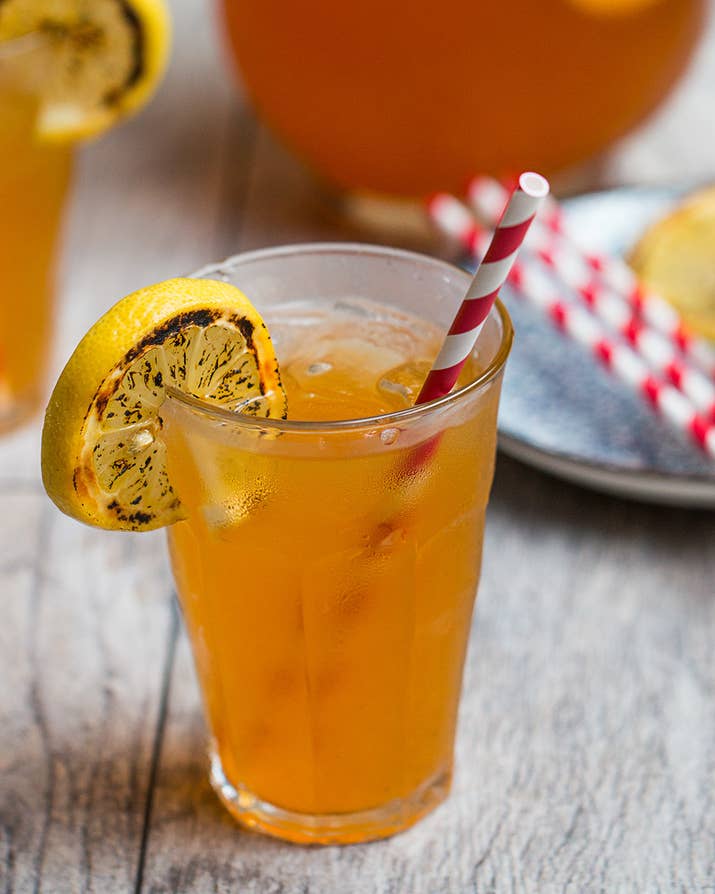 Non-drinkers often don't have a ton of interesting options at a party, but this recipe is perfect for that, and encouraging your other friends to slow down a bit. Each lemon half is dipped in brown sugar, then grilled until nicely caramelized before being squeezed.
Ingredients
5-6 lemons
 1 cup light brown sugar
4 cups water
4 cups ice
Directions
On a cutting board, halve the lemons and coat the cut sides with a thin layer of sugar. Place the lemons on the grill cut side down and cook them over medium-high heat for 6-8 minutes, until caramelized. Remove lemons from the grill and rest them for 5-10 minutes. Juice lemons over a fine mesh strainer into a half gallon pitcher. Once all the lemons are juiced, add the white sugar, lemon rings, water, and ice. Stir until the sugar is dissolved. Enjoy!